Our learning and vacation paradise offers the body, mind and soul a wonderful place to rest, refresh, relax, explore and learn. La Loma Linda consists of 10 beautiful cabanas or rooms of varying size overlooking the Pacific Ocean and a retreat center with teaching space, kitchen and lounge area, located over a large area on a hill tucked away in the middle of the charming beach village of Zipolite beach. La Loma Linda is the perfect place for workshops, intensives, family reunions and all kinds of celebrations.
Stay in one of our beautiful luxurious yet all naturally built bungalows, listen to the soothing rhythm of the waves and don't miss the breathtaking sunsets from your gently swaying hammock. Plunge into the Pacific ocean and play in the waves or take a long stroll on the beach. Enjoy the sight of pelicans sailing over La Loma Linda, observe dolphins and stingrays jumping out of the water and possibly watch whales swim by.
Combine your carefree beach vacation with Yoga classes, Yoga-Intensives or sessions in the Feldenkrais Method®. Or treat yourself to a massage, acupuncture, craneo-sacro sessions or a Temascal (sweat lodge).
Instructors can also rent our center for their own retreats, classes and workshops.
People staying with us develop a new sense of time and live by the rise and set of the sun, and many decide to extend their stay....
Article about Zipolite and La Loma Linda: http://www.visionhispanausa.com
Yoga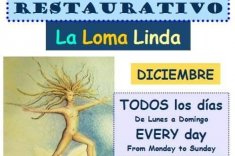 Most of the year we offer Restaurative Yoga classes from Monday - Sunday in our beautiful teaching space from 9 - 10:30 am. In low season classes take place from Wednesday to Sunday.