Classes
In our small oasis on the Mexican Pacific coast, we offer daily Yoga classes in our beautiful teaching space which fits about 20 students.
The teacher, Izaskun Casanova, was born in the Basque Country, and she lived in London for 6 years before coming to México. She has been living in the wonderful coast of Oaxaca for the last 20 years. As a certified teacher (RYS 200 Yoga Alliance), her commitment to education adds to her interest in the therapeutic aspect of yoga, in the awareness of our body and the best use of it. Her practice is based on the search of a healing path from a holistic and natural perspective. And all with a good dose of humour and the chocolate spirit.
DAILY YOGA CLASS: Presently there is a Restorative Yoga Class 9:00 to 10:30 daily (with only few exceptions). For more information please contact us at info@lalomalinda.com
or through facebook:
La Loma Linda:
https://www.facebook.com/LaLomaLindaZipolite/?fref=ts
Espacio Restaurativo:
https://www.facebook.com/EspacioRestaurativoJardinEscondido/
Zipolite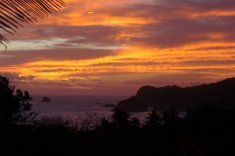 Zipolite is located at the coast of Oaxaca state in Southern Mexico. Its location is very special because it is at the southernmost tip of the coast where on the short days of the year you can see the sun rise from the ocean and set into the ocean as well.